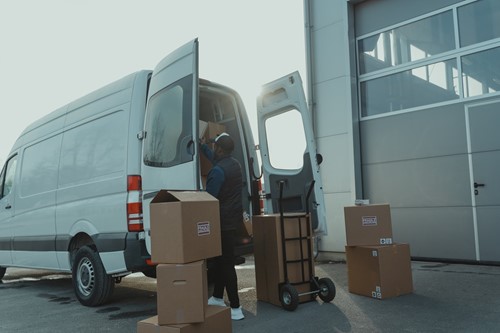 Moving is exciting and complicated, no matter how far away you're going. It can also be an expensive process, even with careful budgeting. If you're moving across the country, transportation, shipping and other aspects of your move can add up quickly. Luckily, there are inexpensive ways to move long distances. Here are some budget-friendly ideas for moving cross-country:
Drive Your Own Moving Truck or Van
Driving your belongings to your new home can save you a lot of money. Many moving companies have multiple options, including loading and unloading only rather than transportation. In this scenario, you can rent your own van, truck or trailer and hire the professionals to pack it full of your furniture and other items. You may hire unpacking services on the other side, either from the same company or a different one. This can help your budget on long-distance moves, since much of the service cost of movers comes from the transportation rather than the labor.
Rent a Moving Container
Moving containers are another way to simplify and lower the cost of a cross-country move. You can rent an empty moving container and fill it at your leisure. Once you have filled the container with your belongings, the moving company will pick it up and ship it to your destination. Companies usually lease moving containers for months at a time, which gives you the freedom to adjust your moving schedule as needed. Some companies that offer moving containers also have options for short-term storage just in case you need more time before moving your belongings into your new home.
Use a Freight Trailer
Freight trailers are another budget-friendly option for moving cross-country. Freight trailers have some similar benefits to moving containers in that they give you flexibility on timing. You can load up the trailer at your own pace and then hire professionals to transport it for you whenever you're ready to leave. While some companies have a tighter schedule (for instance, three days to load the trailer), you still have the freedom and flexibility to do everything but the driving yourself.
These options are excellent for long-distance moves because they will save you money on trips with high mileage. If you're planning a cross-country move, consider these services and ideas for more flexibility and lower cost.